Puszta – Horse Show
Discover the flora and fauna of the Hungarian country side with an enjoyable horse show!
Sights: Kecskemét city-hall "Art Noueavu" style, Gipsy Music, Kecskemét guided city tour, Horsemen's Show, Traditional 3-course meal with wine
more >>
Tour includes
Individual Tour Guide
AirCond. High End Transportation
Door to Door Service
One language
3 course lunch
Welcome drink and snack
Horse Show
Visit of town of Kecskemét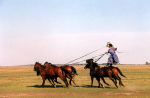 Spend an unforgettable day in the homeland of the Hungarian Horsemens. We take you to the Great Plain's capital, Kecskemét (walking tour). Furthermore we go to one of the Farms ('tanya') where you are welcomed with a sip of the Hungarian spirit, called 'pálinka' and a scone ('pogácsa'). After this comes the famous performance of the horsemen and than a carridge ride around the farm. Then a typical 3-course menu follows in a "csárda" -  with wine, accompanied by authentic gipsy music. Don't miss it!
Duration: 8 hours